Volunteering = Fun!
Hang on for a minute...we're trying to find some more stories you might like.
This is a club in which students from Peekskill High School do volunteer work around the community. They also do fundraisers to raise money for needs around the school. The w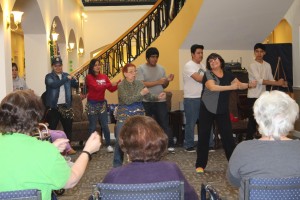 ork they do is an asset to the City of Peekskill.  This club is run by Mr. Goess and Mrs. Byrne. This group has done many things and have accomplished a lot. Today I will talk about the most recent activity they have done. The Interact club went to Drum Hill, a senior living center in Peekskill and did zumba and completed St. Patrick's Day crafts with the senior citizens.
When I arrived at the center, I was greeted with smiles and warm welcomes. A lady lead me to an area where there was about 20 senior citizens there ready to do zumba. I also saw some friends. They were there waiting to start. A lady named Diane Sorg came in and then we started. The members of Interact club are very open and willing to go the extra mile to help people. So, there were members of the club around the room doing the zumba while the elders watched and even some tried to dance along. My friends, Frank and Christian, and I were front and center in front of everybody. I actually had a lot of fun doing it. We all participated for the entire zumba class and after we finished we went down stairs to do arts and crafts. The crafts were for St. Patrick's Day. They were wreaths made of clovers. There were different decorations that we could have added to make it better. I sat down at a table that only had one person. That person's name was Dee. She is a very lovely lady who is very artistic. She had ver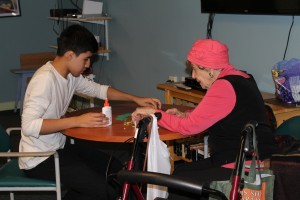 y nice ideas and she was very creative. After we finished decorating the clovers she decided to not make a wreath, so she could put the clovers on a picture of a deer that she had in her room. She was very nice. We had a nice conversation about what I wanted to do in the future, what I did in my freetime, and what her children and grandchildren did. After the whole conversation I realized everyone had left. So I said goodbye and went back to school. By the end of the day I felt joyful and rewarded for having such an amazing experience with the senior citizens at Drum Hill.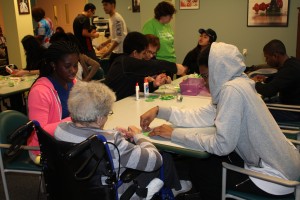 To join Interact please see Mr. Goess or Mrs. Byrne for more information.