ESL Students Make a Mark on Spirit Week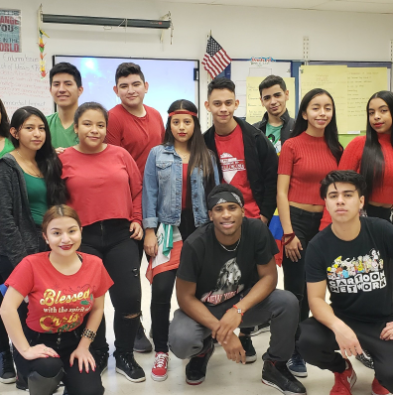 During our 2018 holiday spirit week, Peekskill ESL students publicly displayed their great energy and good vibes. As usual, Peekskill High School devotes a week to celebrate school spirit (three times a year). During these weeks, students participate by dressing according to different themes.  To build the enthusiasm, Freshmen, Seniors, Sophomores, Juniors and even teachers compete against each other to see who has the most enthusiastic spirit in PHS.
This year, ESL students added an extra spark to make spirit week even more lit. Since I was involved in the dance from the beginning, I can say that this dance was very special for the ESL students. It represented one of our first noticeable contributions to the school spirit. This started when a small group of girls wanted to join the sophomore dance, but then, they thought of doing their own dance with music to share a taste of their country. With the support of  three amazing teachers, Mrs. Offenbacher, Mrs. Suazo and Mr. Farez. the dance started to take shape. As any other group of dancers, they had struggles, but the most important thing was that they all had fun, and they gave their best to impress the judges and all Peekskill High School.
One of the reasons that they wanted to make themselves seen in this spirit week was because they thought it was time to contribute more to PHS. Several ESL students commented that they have not seen many Hispanic students involved in school programs, clubs or events. The main issue might be the lack of interaction among students. Since ESL students don't share classes with non ESL students, they don't get to exchange opinions or information with others besides themselves. Sometimes I speak to my classmates who are ESL students (like me) about a school trip or event and they are always the last ones to know about it.
In conclusion, we are trying to promote more union among all the races and cultures in the school, and for that we need everyone's cooperation. Let's not judge or exclude anyone just because they do not know the local language or because they do not follow our same traditions. We must strengthen the camaraderie among all PHS students.