Yoga, Meditation, and Mindfulness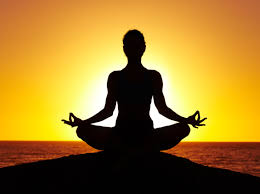 Yoga is a common form of exercise, but it is also a group of physical, mental, and spiritual practices. Yoga (or yoke) is the Sanskrit word for "to join," "to attach," and "to harness." It is something I have been interested in for almost a year and a half now, and I had a realization one day during yoga class:  Why doesn't my school offer yoga, meditation, and mindfulness? It has come in handy in my life, but that's another story for another article. Anyway, here's Wonderwall. Just kidding, here are some of the benefits of yoga:
It helps fix your posture:
After a long day of sitting in a desk and looking down, yoga has helped correct my posture. Your head is basically like a heavy bowling ball. When you keep leaning your head forward, you start getting back, neck, and other sorts of muscle and joint problems. Towards the end of my sophomore year, I found out that I had minor scoliosis and I was prescribed physical therapy. As much as that helped, I was still having back pain. Through yoga, my posture has gotten better and I have been having less painful and less frequent back pains.
Promotes a healthy lifestyle:
Another thing that I have found with yoga is that it helps you live a healthier lifestyle. Not just physically, but mentally, spiritually, socially, and emotionally. Yoga has opened me up to be a more conscious eater. For example, before yoga, I knew where our food comes from, but after yoga, my eyes were opened to the cruelty animals face in factory farms. Because of that, I chose to be vegan. Physically speaking, doing a regular yoga practice also burns calories and may help you address any eating and/or weight problems on a much deeper level.
It helps boost your self-esteem

:
At one point or another in our lives, we may have suffered from low self-esteem. We could feel down and drown our sorrows in various negative ways, such as: drugs, food, work, etc. These actions can lead to poorer physical, emotional, social and spiritual health.  There is a better solution to boost your self-esteem: Yoga! Practicing can help boost your self-esteem and help make you feel a lot more conscious of your choices. Whenever I have low self-esteem, I do yoga to The Beatles' "Across the Universe." It helps me open up and feel confident by connecting with nature.
Meditation also has many benefits:
It controls your anxiety:
Feeling a little anxious? Feeling a little nervous? Meditation is the way to go. It helps clear your mind of all the clutter, it helps bring you into the now, and it centers your mind.  I find it helps especially for anxiety.
It helps you get inside of yourself:
It won't help you literally get inside yourself, but it helps knowing who you are on the inside. It helps open you to what the problem is and how to fix it. It also helps you to get to know your true inner self. I put on the George Harrison songs "Within You Without You" and "The Inner Light" when I meditate because they sync me in with my inner self to find my true self and inner peace.
It can bring more kindness all around:
That's right! You read it! It will help you be kind to everyone instead of being mean! It opens your mind to the world and the living beings around you, and it opens up an opportunity for the world to change and be kinder to one another.
Those are some of the benefits of an excellent meditation practice, but mindfulness is also important, here are some of the benefits of mindfulness:
It enhances the ability to deal with illness:
It has been proven beneficial for cancer patients. It helps decrease rumination, worry, and it increases observing and non-judging.
It decreases depressive symptoms:
Depression is one of the most common and horrifying mental illnesses in the world. Mindfulness can treat it. It helps lower those symptoms.
It helps improve general health:
It is excellent if you have any problems like overeating and high blood pressure. Mindfulness has been shown to lower blood pressure and teach the person how to choose healthy eating habits.
If all of that doesn't convince you quite yet, I asked two of my yoga teachers if yoga, meditation, and mindfulness should be offered in school and why. Ellen Forman, teacher, owner and director of both PranaMoon Yoga in Peekskill and Karma Road Yoga in Briarcliff Manor said, "The main reason we should offer yoga in school is because the benefits of the ancient healing art can have a positive effect on the nervous system and many other systems in the physical body." She also said, "The benefits of yoga can counteract the negative effects of modern day culture, specifically kids being sedentary, sitting in front of screens."
Betsy Egan, teacher at PranaMoon Yoga in Peekskill and teacher, co-owner and co-director of Karma Road Yoga in Briarcliff Manor said, "Today more than ever, students are facing high levels of stress. Yoga can help students to learn mindfulness tools and become an outlet to release stress. Yoga can become the path for self improvement, to move the body, and to become healthier physically, reduce anxiety in the mind, and help students reach their full potential. An added beneficial layer of yoga is increasing compassion for others and the world around us."
Conclusion:
I have personally found that yoga has helped me overcome fears and extreme anxiety. I got into yoga thanks to one of my Spanish teachers.  As a result, I am happy to have had my eyes, mind, spirit, and soul opened by an amazing practice. People in any shape or form should practice yoga because it has clear benefits. For it to work, however, you must commit yourself to it.
In the end, yoga, meditation, and mindfulness are beneficial and healthy tools to make sure you live a healthy life.  Lokah Samastah Sukhino Bhavantu (May all beings everywhere, including animals, be happy and free, and may our thoughts, our words, and our actions contribute in some way to happiness and their freedom.)
Namaste Satnam, everyone!
View Comments (3)