What's Next for Los Angeles; Can the Clippers take over LA?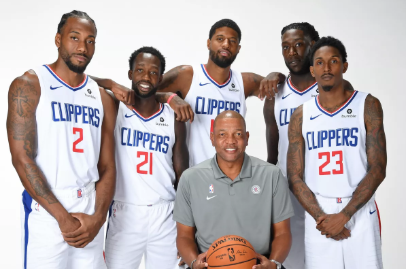 With the new 2019-20 season of the NBA coming up, the changes and trades that dismayed some fans and excited others will soon be in effect. Kyrie Irving and Kevin Durant to the Brooklyn Nets, Anthony Davis to the Lakers, Paul George and Kawhi Leonard to the Clippers, DiAngelo Russell to the Warriors, and many more small but important changes this NBA season will be like no other. However, the questions we all have are who will make it to the Playoffs? Who will make it to the Finals? Which teams can withstand and survive all 82 games and clinch a spot in the final 16? 
There are many teams in the NBA that already seem playoff-ready just by looking at the rosters, but rosters can be deceiving. Take the Los Angeles Lakers for example, where last year they had Brandon Ingram, Lonzo Ball, Josh Hart, an adequate bench and the great Lebron James. With a team like that, you expect them to grab 40 plus points and land in the 5th or 6th seed in that year's Western Conference. Instead, they ended up with a record of 37-45, which landed them in the 10th seed of the Western Conference. In the preseason of the upcoming 2019-20 season, however, both Los Angeles teams have done quite a bit of work. The Lakers traded three quarters of their young talent (Ball, Ingram, Hart) and picked up some new bench players, along with acquiring Anthony Davis, who is arguably a top-ten player in the league and the best big man in the league. The Clippers have traded away some role players such as Shai-Gilgeous Alexander, Danilo Gallinari and Wilson Chandler, cleared up cap space, and acquired both Paul George and Kawhi Leonard. 
For the Clippers, this is the biggest and greatest thing that has happened for them since Lob City (Blake Griffin, DeAndre Jordan, Chris Paul, JJ Reddick and Jamal Crawford) was in full motion. Paul George is one of the toughest players we've seen in this league. He's come back from some horrible injuries, led the Pacers for as long as he could, became a great two-way player in Oklahoma by averaging a career high 28 points per game while also averaging career highs in rebounds (8.2) and steals (2.2). It seems as though every year this man gets better and better. 
Now Kawhi Leonard, on the other hand, is a different animal on his own. The past nine years have been huge for him. In his time in the NBA he has acquired 3 All Star Appearances, 3 All NBA Nominations, 5 All Defensive Team Nominations, 2 Finals MVP awards and 2 NBA Championships. Kawhi is arguably the best player in the league, and not because of his first ring with the San Antonio Spurs, but with his second ring with the Toronto Raptors. Kawhi Leonard single-handedly tore apart the East, dismantled Giannis Antetokounmpo and the 1st seed Milwalkee Bucks, and destroyed the Warriors Dynasty by taking them down once and for all. I have many more things to say about Kawhi Leonard, but then I'd have to write an entirely separate article. 
What I will say is this: Kawhi Leonard did what no other Raptors legend could do for that team. He did the impossible by bringing home Toronto's first ever NBA Championship in franchise history.
With the Clippers having a new and improved roster, the sky's the limit for this team; however, it won't be easy. As always, the Western Conference is loaded with good teams and great players. Players such as Lebron James, Anthony Davis, Damian Lillard, Steph Curry, James Harden, Russell Westbrook and many others are seated at the top, and the Clippers have now placed themselves back into the conversation. Players such as Lou Williams, Ivica Zubac, Montrezl Harrell, Patrick Beverly and really the entire Clippers team are tough players. Like Leonard and George, these guys have the want to win, and now that two All Stars have arrived, they finally have a real chance at winning an NBA Championship. Kawhi Leonard can lead the Clippers as he led the Raptors, and Paul George can be his right hand man, both working together to lead on both the offensive and defensive stretch. 
It will be hard, but if the Clippers keep at a consistent level of determination and grit, they can take over Los Angeles and even take over the NBA. If they win a ring this year, it would automatically make Kawhi Leonard the best player in the league. The Clippers would become the better LA team, and Paul George would finally get the ring that he deserves.