Drama Roles to Honor Roll: Senior Reflection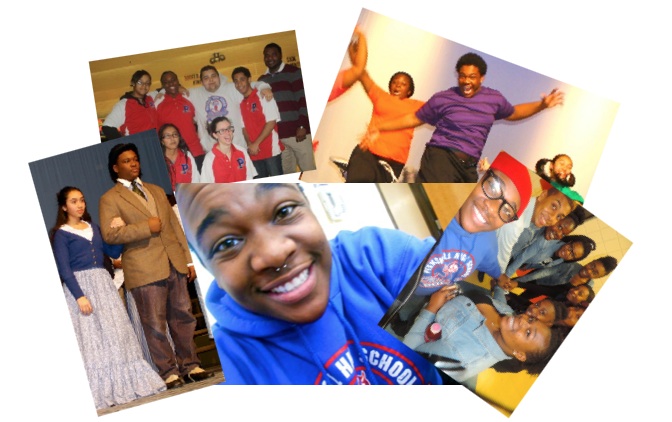 Ah man, freshmen year. I'd have to say it was one of my best years. I met so many amazing people and got to experience the "freedom" that I was guaranteed for now being a high school student. Freshmen year for me was a year to just have fun. I did do all my work and made sure my homework and task were completed. But I didn't really put as much effort into it. As a freshman, who really cares about work? I did join Peekskill High School's Bowling Team and the Black Culture Club. I wanted to make sure I was active in the school.
Sophomore year, I was no longer a rookie. I set my tone and everyone knew who Sterling was. It was my first year being a part of the Drama Club. I got a lead role in our fall production of "Three Gifts from O'Henry," which is where I made my début. I continued to participate in Drama and  receive lead roles in our productions. From the musically gifted Schroder in "You're a Good Man Charlie Brown," to a Detective in "Murder Mystery."  As for my academics, they were decent. I got some 85+ here and there. I knew I could have done better, but my focus at that time was extracurricular.
All of the past graduates who told me junior year was no joke were right. The work was harder and the expectations were higher. Despite all the agonizing assignments and homework being thrown my way, I loved it. I remember reading the Honor Roll and High Honor Roll list, wishing that once, just once, my name could be printed up there. From there I began to get on my grind. My goal was to make Honor Roll. And what do you know, Sterling Fite made the High Honor Roll for the first time! I was ecstatic! The ironic part about it was that my intentions were to make Honor Roll, not High. I thought High Honor Roll was out of my reach. Guess I thought wrong. It was hard trying to balance out school work, homework, Bowling, Drama Club, Black Culture Club and work. But I did it. I could do anything I set my mind to. Making that High Honor Roll was my motivation. From there on I would strive to do my best and shoot for the stars.
Junior year was also the year I took up Culinary Arts/Hospitality at BOCES. Cooking has been my passion since forever. I figured why not take my passion and learn the crafts and skills of the industry? The time being spent at BOCES helped me realize that this is what I wanted to do in the future. My hard work, dedication, outstanding work ethic and grades paid off. I was inducted into the National Technical Honors Society. In my spare time I researched colleges, scholarships, etc. I wanted to get a head start on senior year.
Right now it's Senior Year aka MY Year. Currently I am doing very well. I am in my second year of BOCES and have continued to make High Honor Roll quarter after quarter. I'm still a part of the Varsity Bowling Team, Drama Club and Black Culture Club. Along with some others, including Tennis, Mercury (our school newspaper) and the Yearbook Committee. I'm also working.
Seems like a lot, right? Not for me. I have a couple of free periods and free time. That's the benefit of staying focused, doing all your work, keeping your grades up, and having more than enough credits entering your senior year. Your schedule becomes flexible and you're able to finish and accomplish so much in an ounce of time. I've gotten accepted to Johnson and Wales, Alfred State, Cobleskill, Delhi and Monroe. I'm still in the process of deciding which school I want to attend. I will be majoring in Culinary Arts and Hospitality and receive an associates degree. Next, I will study Business and obtain my bachelors in Business Management.
Overall, my high school experience was amazing. It somewhat prepared for me college and the life ahead. I had my share of disappointments here and there. But that's life. I don't regret anything. Special shout outs to Mrs. Fernandez, Mr. Mueller, and Coach Saxton. Shout to Josh, Manny,  and Brandi also. To the underclassmen reading this, please don't slack. Get on your grind and do what you have to do to get up out of here. But most importantly, have fun while doing so. High School's what you make it. So make it right.