A Dedicated Coach and Athletic Director: An Exclusive Interview with Coach Panzanaro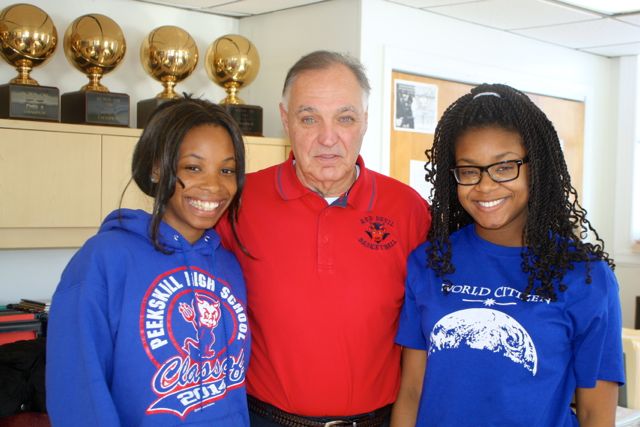 Jaylyn Graham and The video has a low volume, please turn up the volume on your speakers
On December 16, 2013, Mercury reporters Somoya Jimerson and Jaylyn Graham, sat down for an exclusive interview with PCSD Athletic Director and PHS Basketball Coach Lou Panazanaro to ask him about his career, basketball, and the winter sports season.
Our interview with Coach Panzanaro a.k.a. Coach P was very interesting.  Coach P. is a graduate and alumnus of Peekskill High School – a full-blown Red Devil himself.  He graduated and grew up in Peekskill just like us.  He explained to us that he was in love with sports since the 3rd grade and loved watching the Red Devils basketball and football teams play.  He stated that he "couldn't wait to attend high school to play."  In High School, he played Baseball and ran Cross Country.  He explained that it wasn't always an easy road though.  He said he tried out for the football team but was too small.  As irony has it, he tried out for the Red Devils basketball team but was cut!  It's ironic since he has become one of the most coveted and loved coaches in PHS history.
Mr. Panzanaro explained that he has been the Athletic Director (AD) in Peekskill for four years now.  His job is to schedule games for teams, make sure all teams have proper transportation to and from games, buy and make sure all sports have the proper equipment, buy uniforms, hire coaches, write evaluations, and enjoy watching athletes from Peekskill perform in sporting competitions.  He said that the best part of his job is "actually being able to watch the athletes go out there and perform."
Mr. Panzanaro told us that Peekskill is very fortunate to offer a wide variety of sports to its students not only in the fall, but in the winter and summer as well.  He gives attention to all the sports and athletes and said that in the winter Peekskill offers "boys and girls basketball, bowling, wrestling, indoor track, boys swimming and cheerleading."  Even though the season is still very young, Peekskill has athletes that have already started to make their mark on high school competition throughout the area.  Mr. Panzanaro stated "so far, Chelsey Ogindo has broken some records in track in the 1600 meter race and another race."  He states, "she is getting better and better and will be setting and breaking records all year long."  He gave credit to the boys swimming team stating "they are working hard, sometimes working out and practicing starting as early as 6 am in the morning."  He commented that the wrestling team and the bowling team were just getting started but wishes them the best.
We also asked Mr. Panzanaro about the Lady Red Devils basketball team. He said that "Coach Headley came in to coach about 4 or 5 years ago and has done a tremendous job with Coach Smith in developing and bringing the girls basketball team up to the level that they are at now."  He continued, "I just see good things.  They are playing together.  They are doing everything that Coach is asking them to do. They are working really hard and I honestly believe that they could win another sectional title this year."
We continued our interview an asked Coach P. about words of advice that coaches can give to their athletes before, during or after a game.  Mr. Panzanaro's words of inspiration to athletes were "the most important thing is to remember that the game is just a game.  Go out there and have fun.  Compete as hard as you can.  Always do your best.  But the most important things are to respect your Coaches, your teammates, the other athletes that you're competing against and the refs.  Win or lose as long as you give your best effort it's a success."
Even though Mr. Panazanaro loves sports and coaching, he says that athlete's priorities are to get an education and graduate.  As the Athletic Director, before each season he lets coaches know about the eligibility policy and lets them know about the required callback period for student athletes from 2:15-2:45 everyday.  He makes it a requirement for all athletes to attend to callback at the High School and bring a pass to practice.  He expects that all coaches will collect the callback passes and if students don't have a callback pass, then they will not be eligible able to practice that day.  This is one way in which Peekskill is enforcing that students gain a valuable education and makes sure students understand that sports is a secondary.  He stated, "we also have an eligibility policy that monitors students at progress reports and at the end of the quarter and that they have to adhere to certain standards in order to continue to play."  Mr. Panzanaro also said that in addition to the eligibility policy and requiring callback, that if students need additional help, whether they are an athlete or not, the Elton Brand Academic Academy is open for all students to get additional help in academics after school.  This is a program where students can get one-on-one help from a teacher in any academic area and is available for all students from 2:45 to 4:15.
After we discussed all of Peekskill High School sports teams, we couldn't resist asking him about the Boys Basketball team.
Did you know that in PHS history we have had only 3 basketball coaches?  Coach P. explained that he is "very fortunate to have had the opportunity to coach in Peekskill."  He continued, "Coach John Moro coached for 26 years before I came on and Coach Peterson was the head coach for 26 years before that."  After Coach Moro retired, Coach P. took over the head coaching position and has been the basketball leader for over 31 years.  Commenting on Peekskill and the communities love of basketball he stated, "its something that's embedded in this community.  I think there's a love of basketball and we just seem to generate good athletes and that has a lot to do with the recreation programs and the mentoring that they get at a young age as they come up through the system."
Coach P. got involved as a basketball coach in 1983 and has gone on to become the winningest coach ever in Section 1 history.  Coach P. explained, "I surpassed John Volpe a few years ago as the most winningest coach in section 1 history.  I believe the winningest coach in New York State is Jack Curran, who coached for Arch Bishop Maloy but sadly passed away a year or two ago, but he almost 1,000 victories and coached high school basketball for over a 50-year period.
When asked about the boys basketball team this year, he stated "we have a very strong group of athletes this year on the basketball team.  Whether or not we make to the sectionals or not I think will be dependent upon their work both on and off the court.  If this group could stay together and they continue to play together as a team we definitely have the ability to win a sectional title."
Speaking on the outpouring on social media about the Red Devils basketball team, Coach P. said, "I love the interest that our alumni take in our program.  I love seeing some of the players that I've coached in the past come back and cheer us on and tell me how I'm not as tough on 'em as I was on them. But I cannot tell you who I would be starting every game."  He continued, "I tell the starters it's their job to keep those positions by their effort in practice and in the classroom and the reserves that if they outplay the starters during practice then they are going to be rewarded with a starting position or more playing time."
We look forward brining you more conversations with PCSD Athletic Director and Coach Lou Panzanaro and thank him for giving us his time and answering all of our questions.  For more information on any PHS Red Devils Sports team from this year or  the latest headlines and stories from PHS please visit and bookmark our website  www.phsnewspaper.org.  Don't forget to "Like" us on Facebook at "PHS MERCURY" and  follow us on Twitter @phsmercury for live updates on all Red Devils Basketball games and other newsworthy stories from Peekskill High School and the Mercury.