Peekskill PSR Students Win at Somers Sophomore Science Fair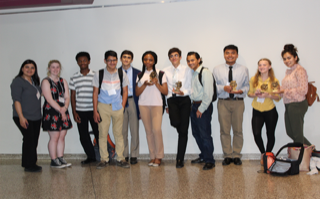 Hang on for a minute...we're trying to find some more stories you might like.
On Saturday, June 2, PHS Science Teacher Ms. Erum Hadi took 21 Peekskill Science Research program (PSR) students to the Somers High School Sophomore Science Fair. The students worked hard all year to study a scientific topic in-depth, and for the past month, they prepared posters on their research topics, rehearsing their presentations repeatedly in preparation for the fair.
The Peekskill team was able to bring home 5 awards from the event! This is the first year that a Peekskill student has placed first and that the PSR team has won multiple awards at the fair.
Congratulations to Ms. Hadi, our participants and to the following winners:
Milagros Morales : 1st Place (Medicine and Health) – Research on HETE's role in atheroscelorosis
Sarai Sales: 2nd Place (Medicine and Health) – Research on Diabetes and fetal overgrowth
Luke Torres-Rossi: 3rd Place (Environmental Science) – Microplastics in freshwater
Enoc Guartambel: 3rd Place (Behavioral Sciences) – Junk food advertising and obesity epidemic
Megan Markley: 3rd Place (Behavioral Sciences) – Social media and teen mental health
The Somers Sophomore Science Fair requires each school to provide one judge per two students. Thank you to the following Peekskill judges that made our student participation possible:
Michelle Obenauer – Science Chair
Karla Nelson – Science Teacher
Dehlaila Kearney -Science Teacher
Margery Rossi – Parent
Innes Belshe – Senior, PSR student
Jasmyn Lucas – Senior, PSR student
Robert Chacha – Senior, PSR student
Jessie Zhanay – Senior, PSR student
Nicole Furtado – Senior, PHS student