Student Responses to McFarland, USA Film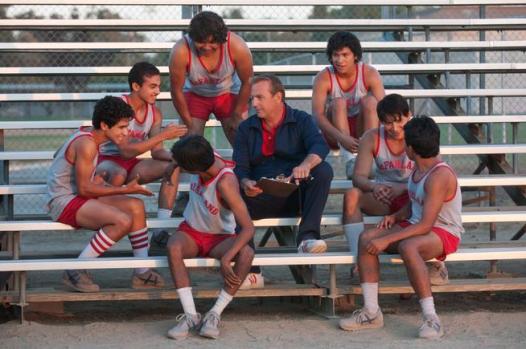 To start off the new year, Peekskill High School's freshman class watched the movie McFarland, USA in our updated auditorium.  In ELA classes, students engaged in various activities to review the movie, sharing their thoughts and reactions.  Here are some written submissions deemed worthy of sharing through our Mercury Newspaper:
Dear Danny Diaz,
Hello, Danny.  My name is Keenahnee Ephraim, and I recently have seen the movie McFarland, USA. I was moved by the entire movie, but you specifically were an inspiration. In the beginning, no one on the team had faith in you because of your weight. One of your teammates even said, "We need seven runners, not six runners and Danny Diaz."  However, you never gave up, no matter how hard it was for you.
Some things that I take away from your part in the movie include endurance and self-growth. An example of this in the movie would be the moment when the whole team was running in the street and you were behind all of them. Even though you seemed to be struggling to keep up, you never stopped. Everyone else was already finished, yet you were able to keep pushing and show me it doesn't matter how others feel about you. As long as you have faith in yourself and don't quit, you can prove everyone wrong.
In the scene where the team had to run up the makeshift hills, you were falling behind again but didn't stop.  What I learned from you is that challenge can bring change. We saw how your confidence and performance improved. Thank you for teaching resilience and strength. These are two things that we all could use in our lives.  
Sincerely,
Keenahnee Ephraim

Dear Danny Diaz,
My advice to you is to be yourself, keep aiming for your dream and don't give up. If people don't believe in you, you shouldn't listen to them because they bring your hopes down, which is where they shouldn't be.  
The movie McFarland, USA was one of the most inspiring movies I have ever seen. I had learned a lot throughout that movie. But what stood out to me was the last race. Without you, your team would've lost. You ran the hardest you could've, and that made you and your team the proudest. Despite the challenges, you did not give up, and you didn't let anything get to you.  This made your team stand out. There were times when you gave up on yourselves, but you were still a team.
This reminds me of when I started playing volleyball.  It was very challenging because some people had experience while some played for a year or less. My first year was challenging. Everyone knew the rules; they knew how to serve, bump, and hit. This was all new for me.  Our coach was strict, and I would shrink when he yelled at kids to do better or that they "should know what to do." When the games began, I barely played because I didn't know anything, but I tried my hardest.
During my last game, I was proud because I did well. My team and coach were right there supporting me showing that practicing helps you to do better. It takes a lot from you, but you can do it no matter what.
Sincerely,
Katherine Uyaguari  
THOMAS
By Nicole Uyaguari
I've never felt pride running so fast.
I just run past, past the fields until I yield.
Wake up. Not a girl, no makeup.
I have to face many problems.
Bullying–being the last of them.
So when I run, I run fast
Trying to escape the harmful past.
The truth for me can be a knife
The one I use both day and night.
They all say that I'm a picker
For me that name is just a trigger.
At last I can chase the sun
Freely till my day is done.
I'm young but carry weight of a man
McFarland's the place where that's all that you can.
You only feel pain because you are sore.
Start a family and you'll never feel more.
When I Run
by Dinese Morocho
When I run
I feel so free.
For so long I had been bottled up.
Finally, I have a voice.
So many things have changed in a short time
I am grateful
I finally feel like I am someone
Not an immigrant or a stupid Mexican
When I run
I find myself
I laugh
I smile
I never give up
I finally feel like I am someone
When I Imagine
by Ervonicca Smith
Anything is possible,
My thoughts are unstoppable,
The results are so optimal,
My problems are now solvable.
My life is now optional,
The world is more nominal,
And rules seem real comical,
Failure's improbable.
When allowed to express,
Without feeling under arrest–
Making art or writing is the process
For my imagination to manifest.
This is the one thing I can do without detest,
Or shade from my peers, whose words ingest.
They don't want to hear
By Allison Martinez
They don't wanna hear, what
I want to say
They don't wanna know, what
I want to say
The truth can
Hurt, clog your perception
Choke up tears, create sadness,
But why lie?
Believing in a beautiful
Lie
Living behind a lace veil; why won't you
Lift up
Cause the world will
Sooner or later
Lift it up.
That's why I speak it,
Embrace it,
Live it,
Love it,
Or even die with it.