Teacher Swap – Peekskill & Switzerland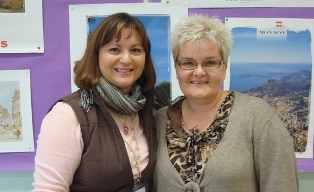 Last year our French teacher, Jen Michel, exchanged places with a teacher in Switzerland.  The result was an exciting learning experience for both of them.  Anne Cottagnoud, English teacher at the high school Lycee College des Creusets in Sion, Switzerland, had the chance to fulfill her desire to teach in the U.S. and experience our system.  She was very pleased with the experience, even with the big contrasts between the two systems.
One main difference is the teacher-student interaction.  In Switzerland, student don't speak until asked, the old fashioned way of teaching in the U.S.  There's less interaction and students sit quietly and still.  Here the students are accustomed to interacting, even after class, where they are open with teachers and often have a friendly rapport that ventures into personal matters.  Ms. Cottagnoud personally believes in using all forms of communication and has brought more interaction back to her classroom in Switzerland.
Another big difference is that here teachers put in a lot of time and effort into after school activities.  In Switzerland that is not done at all.  In Switzerland, sports are not attached to school, they are clubs set up in their towns.  Ms. Cottagnoud said our after school programs are, "Impressive with schools adapting to students rather than students adapting to school."
In terms of technology, Switzerland has more equipment for teachers and less for students.  Every classroom has an lcd projector on the ceiling, but no computers set up for students.  Teachers have to bring classes to a lab for students to use computers.  Another difference is Swiss teachers don't get as much help using the technology and many are hesitant to use it.  Ms. Cottagnoud believes the lab time is important, but she claims she is not the typical Swiss teacher.
At Ms. Cottagnoud's school the students are expected to do 2 hours of homework every night and if they don't complete it they are in trouble and must make up for it the next night.  She explained the Swiss education system tracks students from grade 7 into either prep for college (which is the level of her school), business, health, social work, or trades.  For high school, the trades have a 4 year apprenticeship where they work 4 days a week and attend school 1 day a week.  With this system, their drop out rate is very low.  The homogeneous grouping allows for simpler planning in teaching since all students are on the same level.  In the college prep school, 20% of the students fail in 9th grade and are moved to other schools where they can achieve on their level.  Also, when tests are graded there, it's either right or wrong.  Ms. Cottagnoud had to adjust to our grading where partial points are given for partially right answers.
She and Ms. Michel both found the exchange very successful.  Other teachers in the exchange program had problems with housing and school preparedness.  But they managed to work all things out smoothly by keeping in touch at least once a week.  Ms. Mi
chel said she had Anne's whole family taking care of her.  They gave her advice, showed her where to shop, where to socialize and go out for a good time, and even invited her for meals.  She enjoyed living in the alps and would love to go back again.
Ms. Cottagnoud adored Peekskill's close Proximity to NYC and most of her family visited to also get in the NY sights.  In the future she would consider an exchange in another English speaking country such as Australia or New Zealand.  But for the next four years at least, she has to stay put in her school.  She has been given an assistant principal assignment to oversee 60 students who are in student exchange programs.  Most of these exchanges are with Germany, Italy and Spain, though also with Estonia, Turkey, Belgium, Canada, and the U.S.  These exchanges last anywhere from 2 weeks to a year.  As an administrator in Switzerland she continues to teach, but instead of 23 periods of 45 minutes a week, she gets 8 non-teaching hours to administer this program.  All administrators in Switzerland continue to teach along with their other responsibilities.  Another difference between here and there is that in Switzerland teachers do all their prep work at home.  They only have to be in school for the periods that they teach.  Ms. Cottagnoud said it was a different rhythm and she had to get used to being at school all day, but that she liked it.
According to Ms. Michel, a change in rhythm for her that she thought great was their practice of school-wide trips.  In the Fall the whole school would go for a 12 mile hike in the mountains.  In the winter the whole school went for trips in the mountains to ski, sled, snow shoe, or hike.  And in the Spring they had sports days.  And with all the trips, there was no need for permission slips!
Both teachers were very pleased with their experiences but are now also happy to be back in their own homes.  Though there's no place like home, they're both open to the idea of doing it again in the future.