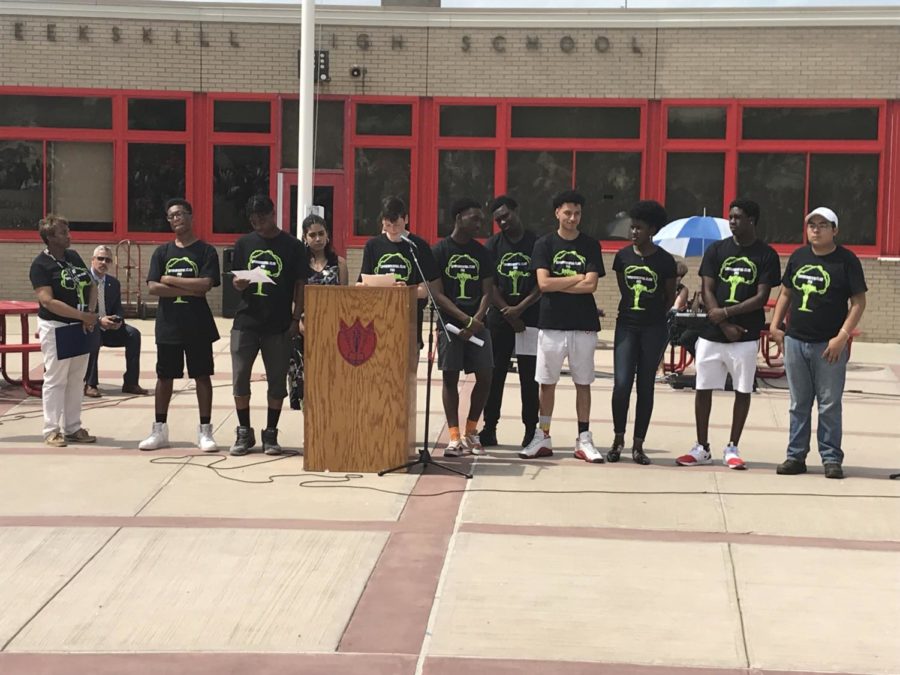 Peekskill High School's Environmental/4H and Gardening Club hosted their 5th Annual Arbor Day Celebration at Peekskill High School on Friday, May 4.
The event included student speakers, including a presentation from Woodside Elementary School Kindergarten students and a presentation from Peekskill Middle School students as well. The day's keynote speaker was Peekskill's Interim Superintendent of Schools Dr. Mary Keenan Foster. Peekskill Mayor Andre Rainey was also in attendance.
The students who comprise the PHS Environmental/4H and Gardening Club are a very dedicated group of intelligent young people who are motivated to make a difference in the world. Their main goal is to get involved in the community by collaborating with various Peekskill agencies. The group has been working with the Peekskill City Council, Peekskill Parks and Recreation and the City's Advisory Board to make positive impacts within the community. The students address environmental issues such climate change, littering, pollution and other issues affecting the Earth.
To date, the PHS Arbor Day Celebration has contributed 11 trees to the grounds of Peekskill High School.
"The students representing the PHS 4H Club and the Environmental Club delivered demonstrated their Peekskill pride," said PHS Principal Rodney Arthur while reflecting on the day's events. "It was a proud moment for our students to speak eloquently in front of their peers on an important topic. Special thanks to Ms. Josephine Williams for her commitment and unwavering support of our students. Your service and dedication inspires us all. You are truly an ambassador for our beautiful earth."