The Clubs of PHS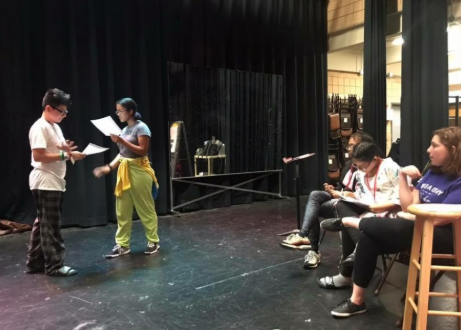 There are many clubs available here at Peekskill High School; The Interact Club, Latino Culture Club, Art Club, Hiking Club, and many more. If it were possible, I'd suggest you join them all, but there's one club specifically that truly brings out the best in you: The Drama Club. The Drama Club focuses on dramatic arts, as students engage in acting, directing, dancing, singing and being part of the crew. The Drama Club is advised by Mr. Sandler, the drama teacher here at Peekskill High School, and it meets on different days (announced on Google Classroom) from 3:00-5:00pm after school in the  auditorium. 
The Drama Club helped me explore things about myself that I didn't even know and it helped me build up my confidence. I believe it can do the same for any students who are looking to try something they've never tried before; it gets you out of your comfort zone. Everyone involved is full of energy as the Drama Club is surrounded by a perfect atmosphere that allows everyone to express themselves. It doesn't matter if you don't have any experience. Everyone is welcoming and will make your learning process pleasurable. 
Being part of a production is the most fun and exciting part about the Drama Club.  You can audition for a part in the play or musical or be part of the crew. Being part of the crew is a wonderful experience because you get to help by working on the set, setting up props, or helping actors and directors with the production.
Joining the Drama Club and being part of a drama production is probably one of the highlights of my high school years at Peekskill High School. Being on a stage as well as in rehearsal allowed me to explore characteristics of myself that I did not know before. To join, meet with Mr. Sandler in the auditorium after school and join the Google Classroom for the Drama Club.  This way, you can be front and center with any announcements, updates or club information.
And don't forget to come see, "A Christmas Carol" on November 21, 22 and 23 in the PHS theater. Tickets are only $8 for students! You can buy tickets at the door or on our website.
Leave a Comment