EXCLUSIVE Interview With NEW PRINCIPAL Dr. Cassandra Hyacinthe!
In this interview, Dr. Hyacinthe discusses her journey to become Principal, goals & programs at PHS, and ways to build a stronger school.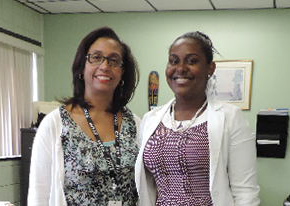 Recently, I had the opportunity to interview new Peekskill High School Principal Dr. Cassandra Hyacinthe. Dr. Hyacinthe grew up in South Philadelphia and attended an all-girls school. She then attended college at the University of Pennsylvania where she majored in French. Later, she went on to obtain her doctorate degree in education from the St. John Fisher in Rochester.
Dr. Hyacinthe has been an educator for over twenty-two years and has had a long journey to become principal. Dr. Hyacinthe began her career in education as an elementary school teacher in White Plains where she spent the first eleven years teaching. She went on to become an assistant principal at an elementary school for three years and then assistant principal at Mount Vernon High School where she spent the past six years. Finally, this past July, Dr. Hyacinthe took the reins as the principal of Peekskill High School.
Dr. Hyacinthe came to Peekskill High School to create a culture of excellence, prepare students for a world-class rigorous education, and provide students with a great learning experience. Dr. Hyacinthe explains how PHS is achieving these goals through the many programs that Peekskill has to offer including the new Summit Academy alternative program and the new Freshman Academy. In addition to these programs, Dr. Hyacinthe has a variety of interesting and future ideas for PHS. She would like to build a stronger Parent-Teacher Organization, see more technology in classrooms and build top-notch distance learning classes. She is working towards building a stronger sense of community and school spirit by asking students and faculty to wear our school color red or their team jersey's on Fridays. She has many ideas to help students be successful. When asked, "In what ways do you plan to encourage students who are not working up to their best potentials?" Dr. Hyacinthe promptly responded "early interventions, checking in with students on a regular basis, using callback and the Elton Brand Academy." A future idea that Dr. Hyacinthe is interested in is the possibility of having a Saturday Academy.
To see the video of this interview click here for the youtube link.