New Trainees from The Power of Peace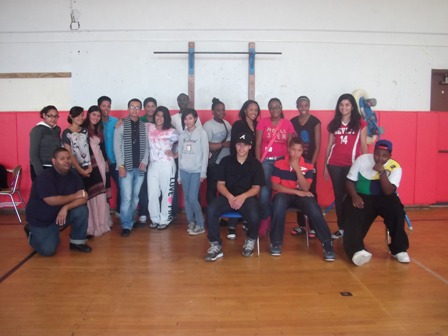 .
October 26, 2011 • Ms. Garabedien
Filed under News
Power of Peace
On Tuesday, October 14th and Wednesday, October 15th, 18 students participated in Level I Power of Peace workshop training along with three teachers from the high school.  The students in this workshop represented grades freshmen, sophomores, and juniors from all groups and cliques.  For two days, students worked together side by side tackling issues that they face in their every day lives.  Students played lighthearted games where they had were forced work together to achieve a common goal, but they also spent time discussing issues that teenagers face.  The conversations ranged from how to resolve conflicts without violence to answering questions about love.  The workshops were a success and advisors Mr. Telesco and Ms. Garabedian are looking forward to the next set of Level I workshops in December.
Students:
Rodney Jones
Janhai Smith
David Calle
Marcos Suarez
Ayomide Jegede
Marta Guevara
Andre Davis
Cyan Rampersant
Nadia Searight
Amy Vele
Lynisha Hester
Sarai Sanchez
Jerry Quezada
Morgan Beechum
Alyanna Rodriguez
Catherine Shaw
Athony Murphy
Chris Melendez
Teachers:
Ms.Garabedian
Mr.Telesco
Ms. Smith
If you participated in a past training or just curious about who else has been trained in the Power of Peace- Click on to these articles from past editions of Mercury:
http://www.phsnewspaper.org/phs-video-blog/2011/05/20/power-of-peace-parties/
http://www.phsnewspaper.org/top-stories/2011/05/01/power-of-peace-2/
http://www.phsnewspaper.org/top-stories/2010/05/20/power-of-peace-dinner/
http://www.phsnewspaper.org/opinions/2010/03/24/power-of-peace/